Flower Bouquet Stickers
Clayrton's flower bouquet stickers are the perfect way to add a touch of elegance and personalization to your gift packaging. Whether you're creating a bouquet for a special occasion or want to make your presents stand out, our flower bouquet stickers are the ideal choice. With their adhesive labels, they provide a convenient and stylish way to customize your packaging and make a lasting impression.
Read more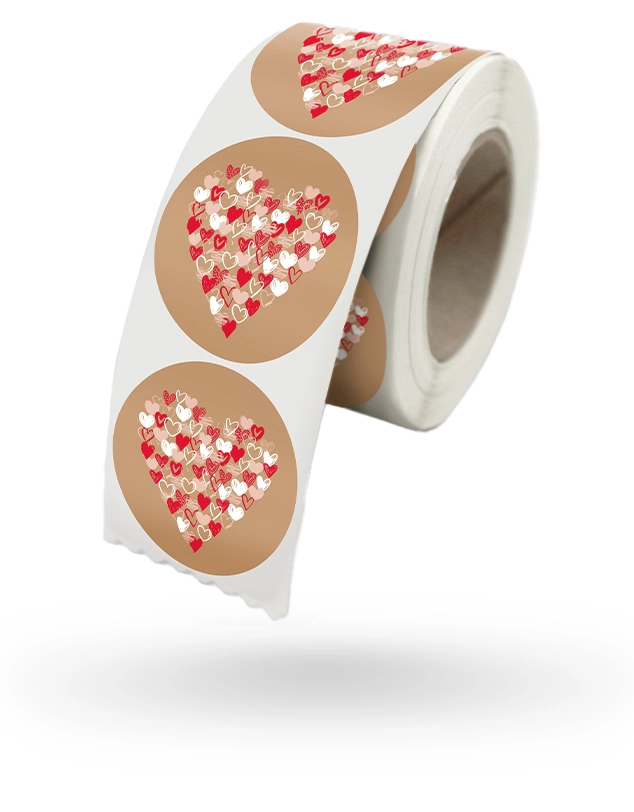 This product is available in :
Enhance Your Presentation with Beautiful Adhesive Labels
Our adhesive labels are designed to elevate the presentation of your gifts. With their exquisite designs and attention to detail, these stickers bring a sense of style and authenticity to your packaging. Each sticker is carefully crafted to convey a message of joy and celebration. Whether you choose phrases like "pleased to offer" or "good tasting," these words express your sentiments and create a memorable gifting experience.
Versatile Labels for Various Packaging Needs
Our bouquet stickers are not limited to gift packaging for flowers. They can be used for a variety of purposes, including labeling packages, organizing items, or adding a special touch to homemade products. The adhesive labels provide a reliable and secure attachment, ensuring that your message or design stays intact throughout the journey.
When it comes to labeling packages, our bouquet stickers offer a convenient and eye-catching solution. Whether you're sending a bouquet to a loved one or shipping products to customers, these stickers will add a professional and personalized touch to your packages. You can include important information such as recipient's name, delivery address, or a special message to make the package even more special.
With their versatility and adhesive properties, our bouquet stickers are an essential tool for any florist, gift shop, or DIY enthusiast. Explore the endless possibilities and let your creativity shine with these beautiful and functional labels. Browse our selection of bouquet stickers today and discover the perfect designs for your packaging and labeling needs.
Create Customized Packaging for Every Occasion
With our bouquet stickers, you have the freedom to create customized packaging for any occasion. Whether it's a birthday, anniversary, or wedding celebration, our adhesive labels can be personalized to suit your needs. Choose from a wide range of designs, including floral motifs, roses, and other beautiful flowers, to match the theme and style of your gift.
Add a Personal Touch to Your Gifts
Gift-giving is all about expressing your feelings and making someone feel special. Our bouquet stickers allow you to add a personal touch to your gifts, making them even more meaningful. The adhesive labels can be used to write personalized messages, names, or special instructions, creating a unique and heartfelt gift that truly stands out.
Imagine presenting a beautifully wrapped gift with a bouquet sticker that has a heartfelt message written on it. It instantly adds a personal and thoughtful element to the gift, showing the recipient how much you care. Whether it's a birthday, anniversary, or any other special occasion, our bouquet stickers will help you create a memorable and touching gift-giving experience.
Not only do our bouquet stickers add a personal touch, but they also enhance the overall aesthetics of your gift. With a variety of designs, colors, and patterns to choose from, you can find the perfect sticker that complements the theme or style of your gift. Whether you're going for a rustic, elegant, or playful look, our stickers will add that extra charm and flair.
Are you a wholesaler ? Would you like to become a customer ?
Contact us
Quality Stickers at Affordable Prices
At Clayrton's, we believe in providing high-quality products at affordable prices. Our bouquet stickers are meticulously manufactured to ensure durability and visual appeal. We understand the importance of budget-conscious shopping, which is why we offer competitive prices without compromising on quality. Contact us to have more information about our prices and options.
Shop Now and Make Every Gift Beautiful
Discover the endless possibilities of our bouquet stickers and transform your gift-giving experience. Visit our online shop to explore our wide selection, browse through customer reviews, and find the perfect stickers for your needs. With Clayrton's bouquet stickers, you can create packaging that delights and impresses.
Experience the elegance and versatility of our bouquet stickers and elevate your gift-giving to a new level. Shop now and make every gift a beautiful and personalized moment.
Our tips to use the full potential of our adhesive sticker
When it comes to using our bouquet stickers, here are some valuable tips to make the most of this versatile accessory. First, choose the perfect design that complements the theme and style of your floral arrangements. You can opt for intricate floral patterns or delicate roses, these stickers will enhance the beauty of your bouquets. Secondly, personalize your gifts by adding thoughtful messages with our stickers. Personalized names, special wishes, or instructions will make your creations even more memorable. Carefully applying the stickers is crucial, ensuring a clean and smooth surface for optimal adhesion. Play with colors by selecting bouquet stickers that coordinate with your flowers or decoration theme, bringing a vibrant and harmonious touch to your arrangements. These stickers can also serve as a promotional tool, as you can add your logo or contact information to increase brand visibility. Attention to detail is key, ensuring that your stickers are properly applied without any wrinkles or air bubbles, adding a professional touch to your floral presentations. Finally, experiment with different sizes to suit your arrangements, using smaller stickers for delicate bouquets and larger ones for more elaborate compositions. By following these tips, you'll create stunning floral creations with our bouquet stickers, adding a touch of personalization and charm to your designs.